Welcome to the realm of possibility.
Are you Deaf or hard of hearing? Do you want to become a scientist?  With the Rochester Bridges to the Doctorate Program, getting a doctorate degree is now more possible than ever.
Deaf scientists are already out there, however…
While the number of deaf scientists is increasing, there is a still a shortage, as deaf scientists are underrepresented in the behavioral or biomedical sciences. The University of Rochester and Rochester Institute of Technology have partnered together and established the Rochester Bridges to the Doctorate Program to address this gap.  With funding from the National Institutes of Health, our program aims to train and prepare eligible students while they are in one of the approved master's degree programs at RIT.  Our program aims to increase the readiness of eligible Deaf and Hard of Hearing students who plan to apply to a doctoral level program in a behavioral or biomedical science discipline.
Doctoral Preparation
RIT Master's degree in a science discipline

Three or more Doctoral-level courses
Multiple graduate research rotations
Navigational Guidance
Personalized career development plan
Scientific and academic mentors
Deaf graduate and doctoral peer mentors
Financial Support
Tuition paid- 90% first year, 72% second year
Conference travel funds
Two-years of paid research assistantships
Apply Today to Make Your Science Doctorate a Reality
Each year we will select three students who are beginning their Master's degree, or are in a BS/MS program, at RIT.  As a Bridges Scholar, you will receive focused training to better prepare for entrance into your chosen doctoral program, gain laboratory experience, and have the opportunity to present at professional, discipline-based conferences.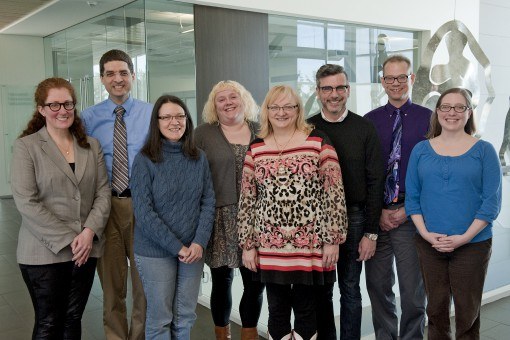 The Bridges team is comprised of world-renowned researchers – each with their own labs – many who have experience working with Deaf people.  As a Bridges Scholar, you will have the opportunity to garner scientific experience within these labs. The team will collaborate with you on your quest to emerge as a Deaf scientist.
Introducing our second WoW Seminar video to be released:  Dr. Rain Bosworth! Go directly to the video HERE or from our World of Wonder in Science page...
Bridges alum Sara Blick is the first Scholar to have her research published.  She worked with Dr. Craig Morrell at the University of Rochester to study Platelet Factor 4 and its impact on bone marrow B cell development and differentiation....
  Announcing the release of several videos in our World of Wonder in Science Seminar Series collection!  More will become available throughout the next few months, so keep checking back!! http://deafscientists.com/resources/world-of-wonder-in-science/